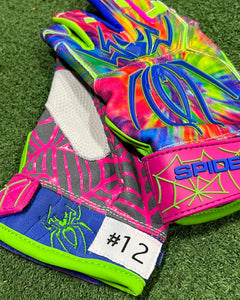 Stellar craftsmanship
Without a doubt, Spiderz gloves embody unparalleled craftsmanship, making them the definitive choice for anyone seeking top-tier hand protection. As an ardent user, I unequivocally vouch for their superiority and consistently recommend them to inquisitive individuals seeking my preferred glove brand. Owning three pairs presently, I am steadfast in my loyalty to Spiderz and foresee no change in the foreseeable future. The astonishing quality and durability of these gloves surpass all expectations, almost defying belief. I wholeheartedly commend Spiderz for their exceptional workmanship, and I am committed to continuing my purchases, not only of their stock offerings but also their bespoke creations.
Great color options. Fast shipping.
Great colors
Love the colors! Very bright and gets the job done!
She loves then
I purchased these as a gift for my niece. The first pair was too small. I should have sized up, as she was between sized. She is excited that they match her team colors and they have her number on them.